Approach Your Face-to-Face Marketing Program with Creative Bravery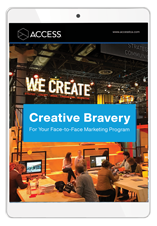 Get out of your comfort zone and embrace creative bravery for your face-to-face marketing program.
Face-to-face meetings are unique opportunities to connect in person with customers, prospects, influencers, the press, and analysts.

Face-to-face events represent a significant part of the overall marketing budget, so they need to prove their value. But what factors contribute to and define a successful event?

Differentiating your face-to-face initiatives calls for "creative bravery." Don't proceed in the same old direction. Be brave, and consider new ways to structure your event program.
Take the first step to bring creative bravery to your face-to-face marketing program.